MEET US
Fresh Carry-out  •  Family Meals  •  Homemade Frozen  •  Banquet Room
About Lorenzo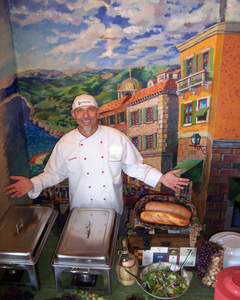 Lorenzo Liberto moved to Las Cruces in 1994. While he was searching for the right location to put an Italian restaurant, he quickly realized how important Green Chile was in this part of the world. Everyone loved their Green Chile and they all had to have their freezers stocked up for the year. Lorenzo couldn't help but fall in love with Green Chile as well and made sure to always have plenty on hand.
In November 1995, Lorenzo found a location and opened the doors of his Italian Restaurant to the community of Las Cruces. Lorenzo's gift of creativity immediately kicked in and he quickly began incorporating Green Chile into several of the families authentic Italian recipes. He was not surprised to see that the infusion of Green Chile into Italian dishes was a huge hit! The Meat & Green Chile Lasagna is still a top seller after 26 years. Lorenzo added Green Chile to a pizza called the "Mesilla Valley Special" which is to this day also a top seller! Lorenzo did not stop there. He created a "Green Chile Alfredo Sauce" that many in the community are addicted to. The Green Chile Fettuccine Alfredo with Grilled Chicken is definitely the most popular dish on the menu but Lorenzo believes the Red Chile Alfredo is equally as delicious!!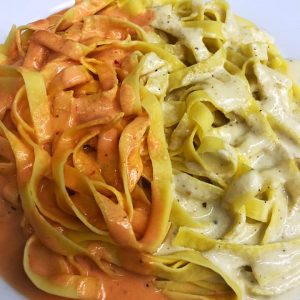 The number one word that describes Lorenzo's food — is Quality! Lorenzo and his wife Ali have never skimped on using the highest quality ingredients even when times were rough while  others were finding ways to cut corners. Lorenzo believes this is the main reason for Pastaggio's success — a quality product that is consistent year after year. Lorenzo has changed his business model over the years but the quality of the product has never wavered. He has gone from  a small trattoria style restaurant to a large full service restaurant with a patio, courtyard and three banquet rooms. He also tried a quick service Italian Restaurant on the East Side of El Paso in 2008. That was a difficult year for everyone and that restaurant didn't make it. In 2012, Lorenzo ended up closing his main restaurant and opened up a small carryout and catering place in the warehouse district of Las Cruces near South Main Street. Many of the customers were clamoring for some dine in seating so Lorenzo ended up adding a small dining room. The pandemic hit and we were forced to close the dining room and now the business model is back to carryout, curbside, delivery and catering. Lorenzo converted the once dining room into a beautiful private banquet room that is available to rent for any special occasion with a maximum capacity of 70 people. We are often asked if he will go back to dine in service and as of today, the current business model will remain as is.
Now available inside of Pastaggio's Italian Carryout is a large three door freezer full of frozen homemade pasta casseroles, all of Pastaggio's sauces, pastas and our famous Lorenzo's Bread. Also inside of Pastaggio's is an Italian Mini Market with lots of imported Italian products such as olive oils, balsamic vinegars, pesto sauces, imported pastas, biscotti, sun dried tomatoes, etc…
So if you haven't been to Pastaggio's, come by soon and treat yourself to some quality, delicious Italian Food and see what the community is raving about!
~Datz Amore
Pizza  •  Pastas  •  Soups  •  Salads  •  Sandwiches  •  Fresh Baked Bread  •  Desserts